We've all seen and laughed over
The 9 Most Racist Disney Characters
. But stereotyping characters based on racial traits is not the only outdated idea to which Disney has contributed. Think about your favourite Disney films as a child. Those produced before about 1996 had a fairly basic model (stolen largely from European fairy tales): The pretty pretty princess, the evil stepmother or other ugly matron, and the prince. Occasionally there's a dad or some sort of talking animal companion, but this is more or less how the Disney movie runs, unless the plot is left mostly up to the men, thereby largely excluding female presence. (We could also do an article on homophobic characters, but Disney mostly stays away from this -- it would probably be movie characters in general).
Sure, Disney has smartened up lately. You've got
Mulan
, who joins the army to protect her father -- not her boyfriend -- and to prove that girls are good for more than marrying off. You've got
Pocahontas
, who is the voice of reason and understanding between warring races. You even have Hercules'
Megara
a supporting character with, oh my,
depth!
But for every Mulan, Pocahontas, Megara, and Belle (who at least teaches girls that it's totally cool to be smart and bookish, even if she is kind of helpless), there's a
Maid Marian
or a Cinderella who can't get a damned thing done for themselves, or a
Madame Mim
or an
Yzma
, who demonstrate that you can tell how good or evil a woman is by how pretty she is. Men, of course, are a different story:
If you make the same chart with female Disney characters, please, send it my way.
With this in mind, I give you
The Seven Most Sexist Disney Characters
.
#7. Mrs. Banks from Mary Poppins
Release:
1964
How she destroys the self-esteem of little girls everywhere:
"Surely, not Mrs. Banks!" you're thinking. "She was a suffragette. She belongs on the list of The 7
Least
Sexist Disney Characters!" And you'd be right about the suffragette bit. In Britain, women with a hankering to vote went to lengths just short of terrorism for that right. Mrs. Banks come home filled with joy and excitement about women chaining themselves to the Prime Minister's carriage, and then leads the household staff in a chorus of Sister Suffragettes, including the unforgettable line, "Though we adore men individually, we agree that as a group they're rather stupid."
Unfortunately, as soon as the song ends, her husband comes home, and all that "no longer meek and mild subservients" stuff goes right out the window. She shoves away all the sashes (because she knows "how the cause infuriates Mr. Banks") before the husband waltzes in the door, oblivious to everything except the way she looks.
MRS. BANKS: Dear, it's about the children -!
MR. BANKS: Yes, yes, yes. [Turns around and walks away]
...
MRS. BANKS: They're missing, George!
MR. BANKS: Splendid, splendid.
He goes on to sing that he treats his "subjects ... servants ... children, wife, with a firm but gentle hand.
Noblesse oblige
." Meanwhile, his wife looks like she is about to cry. Maybe Mrs. Banks isn't the sexist character here. Maybe it's Mr. Banks. At least she attempts to make him acknowledge the sentience of his children. But she's still way too complicit in this thing. Mr. Banks lays heaps of blame on her, and she accepts that everything is her fault and all but apologizes for being a terrible, incompetent person. If her husband straight-up slapped her, she'd probably thank him for teaching her a lesson.
Unfortunate moral:
Everything that goes wrong in your marriage is the woman's fault.
What would have made it better:
If Winifred Banks stopped being a simpering ninny and told her husband to suck her left one once in a while.
MRS. BANKS: It's about the children, George - !
MR. BANKS: Yes, yes, yes.
MRS. BANKS: DID YOU HEAR WHAT I JUST FUCKING SAID?
#6. Princess Aurora/Briar Rose, from Sleeping Beauty
Release:
1959
How she destroys the self-esteem of little girls everywhere:
Princess Aurora, aka Briar Rose, aka Sleeping Beauty, is loved by all. What did she do to deserve such affection?
Not a damned thing
. All she had to do was show up and look pretty. Okay, so her parents and her parents' friends love her, that's reasonable. Prince Phillip, however, just sees her and decides that politics be screwed, he's going to marry the hot peasant chick. I guess that what would have happened in the real world -- him either jumping out and raping her or just watching her from behind a tree while jerking off -- got vetoed by the Brothers Grimm as not moving the plot forward very well.
Well, you know the basic plot. Female Villain 1B shows up and curses the pretty pretty princess, the fairies whisk her away into the forest where she grows up singing to surprisingly docile forest creatures (if you ever wonder why princesses seem to attract forest creatures so much, the reasons are always either beauty or singing voice, or virginity if unicorns are involved). She meets the Prince, they decide to get hitched, but before they can, Briar Rose gets hauled back to her family's castle where she pricks her finger on the spindle which is supposed to make her die (of what? Blood loss? Gangrene? Did this happen a lot back then?) but thanks to Merryweather's blessing only puts her into a coma. Then she just lies around for a while, letting the prince do all the damned work until he shows up and wakes her up. Am I stretching it, this counter-feminism thing? Well, the Disney Sleeping Beauty story is still better than
its precursor
, which involves such delights as
rape, cannibalism, and attempted murder
. The prince gets away fine with the rape, it's his wife who is considered the evil one for trying to murder his mistress and children.
Unfortunate moral:
The best way to get a man is to hang around and be as beautiful yet passive as possible. Nobody likes a woman who gets assertive when she's been offended.
What would have made it better:
Briar Rose is taught kung fu while living in the forest with the fairies. When Maleficent tries to get her to prick her finger, she snaps out of it and kicks the wicked witch in the box, vanquishing her. When she turns around she sees prince Phillip watching, who says, "Shit! I liked you when you were just beautiful and useless, but now that I've seen what you can do, now I love you."
#5. Cruella DeVille et al. from 101 DalmationsRelease: 1961How they destroy the self-esteem of little girls everywhere:
Even if she had been named "Happy McFlowers", you'd know the lady on the right was the villain because she is an ugly woman. Compare with non-evil Anita: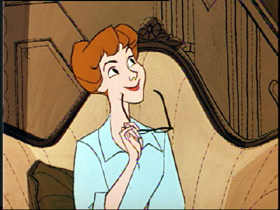 "I'm too pretty to be cruel to animals!
Cruella Deville has to overcompensate for being so ugly by wearing too much lipstick, dying her hair weird colours, and making gigantic fur coats, sometimes out of the fur of stolen puppies. She first tries to peer-pressure Roger and Anita into selling their newborn puppies, and Roger is the one who has to tell her to suck it. So Cruella hires some guys to commit a B&E in order to get her hands on fifteen dalmation puppies. They quickly overpower the lovable old matron working for Roger and Anita and make off with the loot. Luckily, there are plenty of talking dogs and other animals (exclusively male) to help Pongo and Perdita get their puppies safely home.
The best moment in the film, however, occurs during the chase scene in which Cruella is so enraged about the setback in her fur coat plan that she goes on some kind of meth freak-out, chasing the van in which the dogs are hidden.
The driver of the van is nearly run of the road, plunging off the snowy bank into what in real life might well kill him, and what does he do? Mutters "Crazy woman driver!"
Unfortunate moral:
Women are crazy when it comes to clothing. Also, they can't drive.
What would have made it better:
When Horace and Jasper arrive to commit their B&E, Nanny pulls a revolver out of her garter, shoots them both, and then calmly calls 911 instead of hysterically running through the streets sobbing "Police! Police!"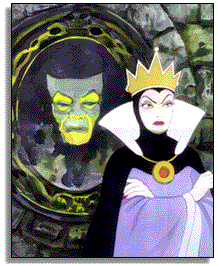 #4. Snow White's Evil Stepmother, the Queen, from Snow White
Release:
1937
How she destroys the self-esteem of little girls everywhere:
Okay, so this female villain is not exactly
ugly
, but seriously, if she's the fairest of them all, there's a big shortage of women 'round those parts. Or maybe the mirror is just into crazy-looking eyebrows. Who knows? But while Cruella up there was just into murdering puppies in the name of vanity, the Queen is taking it to a whole new level. Little girls everywhere, take note: if you are not the prettiest one in your class, the easiest solution is to kill everyone prettier than you. Other solutions include reordering your priorities, but that takes time and self-respect and does not result in marriage to a prince who looks like Ken.
Of course, we know that what the Queen is doing here is wrong. But why? Is it because it's not worth killing someone just to be at the top of the looks pyramid? Or because killing beautiful people is wrong? (Disney
certainly doesn't seem to have qualms with killing ugly women
.)
Snow White, luckily, survives thanks to her womanly instinct to clean whatever dirty house she happens upon, and the fact that she can cook (this is why the dwarfs allow her to stick around). And thanks to some necessary intervention from a prince. Apparently, in order to get married in fairytale land, princes need to find and save a woman in some sort of stepmother-induced distress, preferably one involving unconsciousness mistaken for death.
Unfortunate moral:
Cooking, cleaning, being pretty, and singing well: everything a girl will ever need
or
the fairest woman is synonymous with the best.
What would have made it better:
Snow White intentionally disfigures herself to avert the Queen's wrath, and ends up marrying a prince anyway. Everyone finds out what a huge bitch the Queen is, and stops going to her parties, leaving her alive and alone to talk to the mirror, reflecting on how screwed up she is.
#3. Duchess from The AristocatsReleased:
1970
How she destroys the self-esteem of little girls everywhere:
Disney, was there some sort of law or marketing research or something that mandated pretty females in unfortunate situations getting rescued by males? Duchess is an aristoc(r)at living in Paris in 1910, and she and her three kittens (father unknown) belong to a wealthy retired opera singer who, apparently, has "crazy cat lady" written all over her, as she decides to leave her vast fortune to her cats. Understandably irritated but not-to-bright butler Edgar decides to get rid of the cats so that he might inherit the fortune himself. His incredibly complex plan involves simply dumping them somewhere in the countryside, where there does not even appear to be anything that might fight or prey upon the cats, yet Duchess is at a complete loss as to what to do until a guy-cat with an impossibly long name shows up to help her out.
"Excuse me, sir, do you suppose you could help me out? I am too pretty to be outdoors."
Props, however, to her daughter Marie, for telling her brothers that "Ladies
do not
start fights, but they can
finish
them." Her children (specifically the boys) are the only ones who seem to have any interest in doing normal cat stuff or acquiring real-world skills, while Duchess is more concerned with looking and acting like old money.
Unfortunate moral:
If you are in a compromising or dangerous situation, you cannot hope to get out of it yourself. The best thing to do is to flirt with the nearest man, who will take care of everything for you.
What would have made it better:
Duchess tells the strange alley cat to stay the fuck away from her children, and keeps herself and her kittens alive by learning to hunt and forage, like cats are supposed to.
#2. Bo Peep from Toy Story
Released:
1995
How she destroyed the self-esteem of little girls everywhere:
Okay, we get it; Andy is a boy and he has boy toys. But seriously? Not even a G. I. Jane? Not even a female Lego-person or a purple Hotwheels car? Not even some cheap-ass McDonald's toy? All we get here is Bo Peep, who, as far as the plot is concerned, amounts to little more than Woody's hoe. She's there to suggestively imply that she might "get someone else to watch the sheep tonight", but doesn't really participate in any of the action.
"This plot is no place for a woman!"
Clearly the script was written by men. Although we guessed that around the same time we found out that the main characters were named "Buzz" and "Woody". Sure, Toy Story 2 redeems itself with the addition of female characters Jesse and Mrs. Potato Head. Mrs. Potato Head who, by simple virtue of her name, is automatically married to Mr. Potato Head.
"I have a meaningful existence putting eyeballs in my husband's plastic butt."
Although I guess if you want to talk about two people who were
made
for each other . . .
Unfortunate moral:
Your sole reason for existing is to please men.
What would have made it better:
If Andy had gotten a G. I. Jane for his birthday. And then G. I. Jane had stolen Bo Peep away from Woody.
#1. Ariel from The Little MermaidRelease:
1989
How she destroyed the self-esteem of little girls everywhere:
Ariel falls madly in love with a man she's never talked to, and sells her soul to the devil and abandons her friends, family, and everything she's ever known on the off chance that he might fall in love with her in return. A role model for my future daughter? I'll say!
Okay, well, let's say that in her ruthless looting of sunken ships, she finds some sort of art depicting human sex. And even though all the mermen in this movie look like the homoerotic dreams of every Greek artist of the classical era, mer-sex sucks, and
Ariel wants a vagina to go with her legs
. She's still in love with Prince Eric, a guy she knows only by sight, which has to be the most conditional form of love
ever.
"Oh, Eric, I'll love you 'til the day you're ugly!"
Ariel decides to go visit the sea witch in order to procure legs through unholy means. Ursula, said sea which, is apparently the only humanoid creature under the sea who is fat and not Caucasian. This is in no way related to her having pets instead of a boyfriend, I'm sure. Ursula has Ariel trade her most valuable asset, her beautiful singing voice (once again, necessary to be a half-decent pretty princess), feeling pretty sure that she can get Eric to kiss her within 72 hours. Since this is a Disney movie, she can at least be sure that he isn't gay.
At the end of the movie, things work out for Ariel and Eric, who are in Disney-love and haven't known each other long enough to know about each other's irritating habits, so Ariel gets what she wants: she abandons her friends, family, and home, all for some dude. It's not even like she can go home if he turns out to be abusive. At least not until SCUBA is invented.
At the very least, we'll give her props for actually taking her fate into her own hands and doing something to achieve her goals, even if they are terrible ones.
Unfortunate moral:
Your man is more important than your friends and family.
What would have made it better:
Ariel finds out that Eric is actually a stuck-up jerk before he kisses her; she goes back into the ocean and becomes a sea-witch herself, except that she doesn't require people to give her their most valuable assets in exchange for help.
Honourable Mentions
go to Cinderella, Tinkerbell, Wendy, and all those girls from the beginning of the article who misrepresent vaginas everywhere.